Show 10.11.2023
10.11.2023. Latvian Sighthound Club Specialty Dog Show
FCI Group X, breeds from FCI Group V: Pharaoh & Ibizian Hound, Cirneco Dell'Etna.
Place of event
Dino Zoo Pasaule, Krasta iela 52, Riga, LV-1003
The judges
Hanna Woźna-Gil
(Poland, kennel «Festina»)
Show committee keeps the right to change the judges if necessary.
SHOW PROGRAMM
CATALOG (.PDF)
RESULTS (.PDF)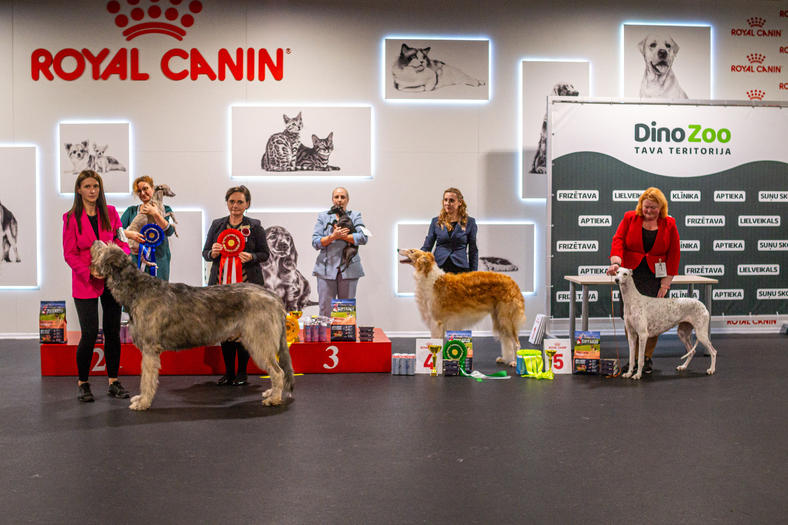 BIS
12:30 Registration of participants and veterinary control
Judge Svetlana Kokoņena
13:30
Saluki (12)
Borzoi (8)
Afghan Hound (5)
Judge Hanna Woźna-Gil
15:00
Italian Sighthound (12)
Greyhound (4)
Pharaon Hound (3)
Sloughi (2)
Magyar Agar (1)
Spanish Greyhound (1)

16:10
Whippet (37)
Irish Wolfhound (13)

19:00 BEST IN SHOW COMPETITIONS
Labākais pāris (BIS BRACE)
Labākais mazulis (BIS BABY)
Labākais kucēns (BIS PUPPY)
Labākais juniors (BIS JUNIOR)
Labākais veterāns (BIS VETERAN)
Labākais darba klasē (BIS WORKING CLASS)
Labākais suns izstādē (BIS)
Registration
Registration deadline: 29.10.2023. 23:59
Participation Fees
LKKK biedriem
citu LKF klubu biedriem
Foreign participants
1.suns / katrs nākamais suns
Mazuļi, kucēni, veterāni*
konkursi
1.suns / katrs nākamais suns
Mazuļi, kucēni, veterāni*
konkursi
konkursi 1st dog / next dog
Baby, puppy, veteran*
Competitions
Līdz 23.10.2023.
25 / 23 EUR
12 EUR
15 EUR
30 / 28 EUR
12 EUR
20 EUR
40 / 35 EUR
12 EUR
20 EUR
24.10.2023 - 29.10.2023.
40 / 38 EUR
20 EUR
25 EUR
45 / 43 EUR
25 EUR
30 EUR
50 / 45 EUR
25 EUR
30 EUR


LKKK čempioniem dalības maksa visu reģistrācijas laiku 12,50 euro (atlaides nesummējas).
For veterans more than 10 years old participation FREE OF CHARGE!!!
Prices for members of Eesti Hurtade Liit and Lietuvos kurtų savininkų klubas
(for the registration copy of the card of membership should be added):
| | | | |
| --- | --- | --- | --- |
| | Jr. & adult classes / next dog | Baby, puppy, veteran* | Competitions |
| till 23.10.2023. | 25 / 23 EUR | 12 EUR | 15 EUR |
| 24.10.2023.-29.10.2023. | 40 / 38 EUR | 20 EUR | 25 EUR |
We inform you that photography and filming will take place during the event. By attending the event, you confirm that you are aware that you may be photographed or filmed and photos with your image may be posted on the website of the association "Latvijas kurtu un kursinga klubs" kurti.lv or on the social network Facebook.

If you attend an event organized by us (which includes photography) and do not want to be photographed, please inform us in advance. We will evaluate each case and try to respect your wishes as much as possible. Please note that we are under no obligation to delete images in which you cannot be directly identified.
*Mazuļu, kucēnu, veterānu klases un LKKK CH suņi nevar būt kā pirmais suns un tiem netiek piemērotas atlaides, kā otrajam, trešajam utt. sunim.
TIKAI ONLINE REĢISTRĀCIJA. REĢISTRĀCIJAI NEPIECIEŠAMIE DOKUMENTI:
CILTSRAKSTU KOPIJA AR MIKROČIPA NUMURU;
CH DIPLOMA KOPIJA (JA REĢISTRĒJAT SUNI CH KLASĒ);
DARBA DIPLOMA KOPIJA, JA REĢISTRĒJAT SUNI DARBA KLASĒ;
LKF 2023.GADA MAKSĀJUMA KARTE, UZ KURAS RAKSTĪTS "KARTE UZRĀDĀMA VEICOT MAKSĀJUMUS LKF" (PĀRLIECINIETIES, KA SUŅA ĪPAŠNIEKS IR TĀ PATI PERSONA, KURA SAŅĒMUSI ŠO KARTI);
BANKAS MAKSĀJUMA UZDEVUMA KOPIJA VAI GARANTIJAS VĒSTULE (TIKAI LKF KLUBU BIEDRIEM);
MAKSĀJUMA MĒRĶĪ JĀNORĀDA -

IZSTĀDE 10.11.2023. UN ĪPAŠNIEKA UZVĀRDS.

LŪDZAM PĀRSKAITĪJUMUS PAR DALĪBAS MAKSU LKKK IZSTĀDĒS NEVEIKT UZ LKF KONTU! ŠIE MAKSĀJUMI TIKS UZSKATĪTI PAR ZIEDOJUMIEM LKF UN JŪS NEVARĒSIET SAŅEMT TOS ATPAKAĻ.
Katalogs būs pieejams izstādes dienā no plkst. 8.00, tikai ONLINE formātā!
Dalībnieka numuriņus varēsiet saņemt izstādes dienā pie reģistrācijas galda stundu pirms ringu sākuma.
Suņiem, kuru īpašnieki dzīvo Latvijā, uz izstādes brīdi ir jābūt reģistrētiem LDC bāzē www.ldc.gov.lv Suņi, kuri uz pārbaudes brīdi nebūs LDC bāzē, netiks ievadīti katalogā un nevarēs piedalīties skatē.
Bitches in season or sick, raging, maimed dogs and lactating bitches or bitches on heat can not participate at the show! If dog becomes sick or season for the bitch starts until the first day of the Show, exhibitor can receive back 75% of the entry fee if he presents or sends official veterinary certificate issued till the first day of the Show to organizators of the show before a show or till the end of a Dog Show.
If you have any questions, please contact us at kurti_show@inbox.lv
Sponsors of our Dog Show
Johan Freitag Gin Cocktails
ir premium kvalitātes kokteiļi!
Džins, kas izmantots kokteiļos, radīts, iedvesmojoties no karaliskās Skandināvijas augstākās kvalitātes dzērieniem.
Džina sastāvā izmantoti tikai dabīgi augu ekstrakti.
Izcils garšas baudījums, malkojot kā Johan Freitag alkoholiskos kokteiļus, tā arī bezalkoholisko kokteili Johan Freitag Ginish!
Dāvana no Johan Freitag katram Latvijas Kurtu un Kursinga kluba specializētās izstādes konkursu 1.vietas ieguvējam! Apsveicam!